"How do I get more customers?" This is the most common question asked to me by small business owners. And the available marketing solutions are plentiful: Radio, billboards, coupon books, social media ads, website ad banners, blah blah blah.
But, there's ONE thing you must be good at to win the most customers in 2020. The good news is there are a TON of potential customers who are actively looking for your pawn services RIGHT NOW. The bad news is you may not even realize they are choosing your competition over you, even though you have the better pawn shop!
So, what is the ONE THING you must do to beat your competitors? OWN THE PHONE'S REAL ESTATE.
This strategy is the most amazing customer magnet in the history of small business. So if you want more customers, keep reading.
Fact #1: PEOPLE OBEY THEIR CELL PHONE
We all use our cell phones these days to find a restaurant, bug guy, carpet cleaner, and PAWN SHOP. In fact, 98% of cell phone users conduct local searches and 78% of local mobile searches result in an offline purchase. Seriously.
The thing you may not realize is that even though you think you have the best pawn shop in town, this means NOTHING if you don't show up in the search results.
If you were in Columbia, SC and you needed a pawn shop, where would YOU go to find the one that can best meet your needs? Your cell phone, correct? Take a look at this cell phone search. Which pawn shop would YOU choose?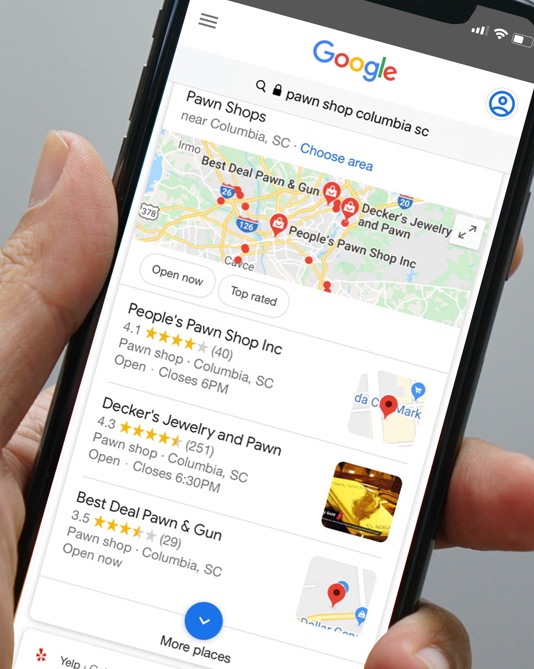 Would you choose Quick Cash Pawn & Loan? NO, because they are nowhere to be found on the first page. What about Elite Pawn? Nope. In other words, to a prospective pawn customer in Columbia, Quick Cash and Elite Pawn don't exist. In fact, there are over 15 pawn shops in Columbia, but guess who is getting most of the new customers?
Deckers Jewelry & Pawn. Why? They rank in the top 3 and they have the best customer interaction and feedback (reviews). Period.
FACT #2: OWNING THE PHONE'S REAL ESTATE WILL HELP YOU MEET YOUR SALES GOALS
What results can you expect when you own the phone's real estate in your city? I work with some of the top pawn shops in the industry to help them dominate the search results in their town. Here's the average
monthly
customer flow we are seeing:
Clicks for driving directions
:
216
(this means the customer did a search, saw the pawn shop, and clicked for driving directions and drove to the pawn shop)
Own the phone's real estate and find more success in 2020.
A word from CEO, Len Summa:
We are always on the lookout for 'best of breed' people who can help our clients succeed. Mitch and his team only work with one pawn shop in each area and accept clients by referral only, so if you want help to own the phone's real estate in your market, please reach out to me and I can make an introduction.