There is an enormous amount of uncertainty within the payment space…and all eyes are on EMV payments. With the October liability shift, EMV has become a hot topic of conversation and for good reason. EMV payments (chip holding cards dipped at the point of service) help protect businesses, in the event of chargebacks, during card-present transactions. But what most businesses (and the media) overlook are the critical technology solutions that play a bigger part in securitizing business. This is exactly where the Mercury and PawnMaster technology stack comes in! Our approach is simple…to educate the payment community on our technology stack and highlight risks that businesses are exposed to in the marketplace. Along with EMV, the Mercury and PawnMaster product partnership offers an entire suite of security-enhancing solutions to protect your business.
End-To-End Encryption secures transactions in transit, masking credit-card data directly at the card-reader. What's this mean? No card data is hitting the PawnMaster system. Tokenization secures card data at rest, truncating card information that is saved on file With Mercury decoding this truncated block or "token" to uncover card data, this allows merchants to securely perform recurring payment! Our OmniShield Secure solution assists businesses in becoming PCI compliant and honoring best practices, along with covering merchants for up to $100,000 in the event of a PCI breach! As mentioned above, EMV eliminates duplicate or fraudulent cards at the point of sale.
As you can tell, there is certainly more to securing your business than just EMV. Please take a look at the below infographic to see just how susceptible businesses are without the Mercury/PawnMaster technology stack!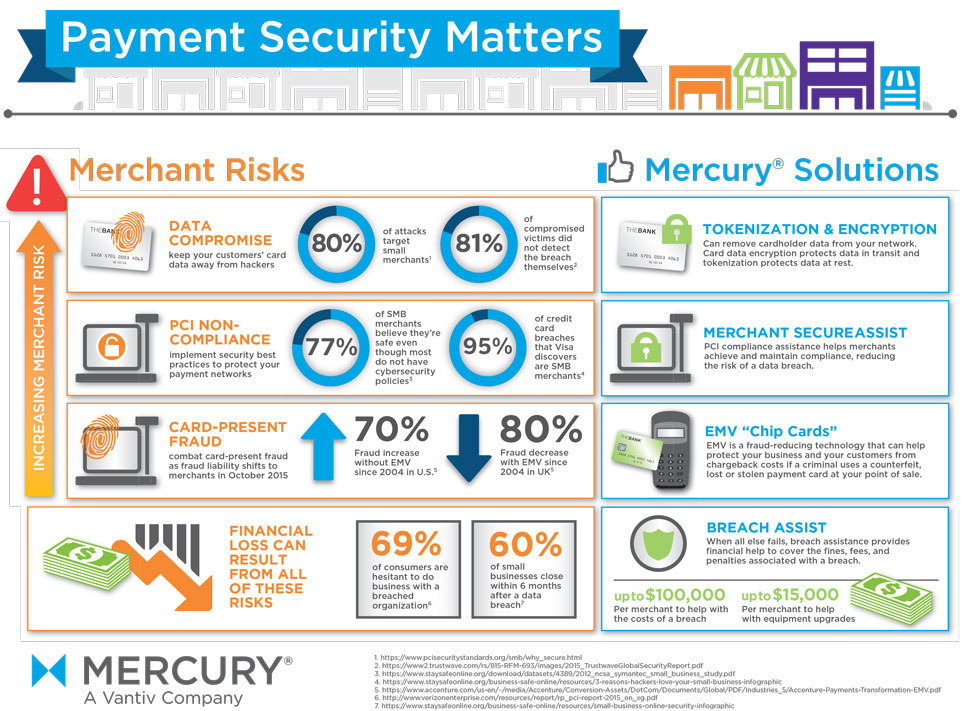 By Brandon Dieter I Channel Development Manager – Software Partnerships I Mercury Payment Systems
Click here to learn about PawnMaster's partnership with Mercury Payment Systems to provide an affordable solution.
Click here to read more about EMV from our partners at Mercury Payment Systems.