BE THE BUYER (not the seller) – Put yourself in your customers' shoes. Think about a time you bought something on eBay. What process did you go through? How did your experience make you feel?
When you think like the buyer, you can "speak" to that person.
As a buyer, we go through 3 phases:
SEARCH
REFINE
BUY
Search –The default search setting on eBay is "Best Match". Most buyers don't change that so let's talk about how to make your item "Best Match"-worthy. As a buyer, think about the terms you would use to search the item you're going to be selling. Start there, with your title. You only have 80 characters, so make good use of them!
TIPS for standing out in the Search phase
Make sure you choose the right category for your item.
Use relevant keywords – eBay considers a number of factors when ranking for "Best Match" and the relevance to the user's search is one of them. A couple other factors include listing completeness, popularity of the item, seller's reputation (which we could go into a whole other episode on!)
Minimize fluff (Words like "Cool", "Nice", "Wow", etc.)

Maintain a professional look and feel for your listing.

Do a quick search of your own for the item you want to sell. The benefit of this is two-fold. It will give you ideas as to which keywords to use and it'll also show you your competition so you know what you're up against.
Think about what the buyer is looking at during the "Search" phase. Now think about how you're going to make your listing stand out so you can move on to the next phase.
Here is an example of an eBay search for an iPhone.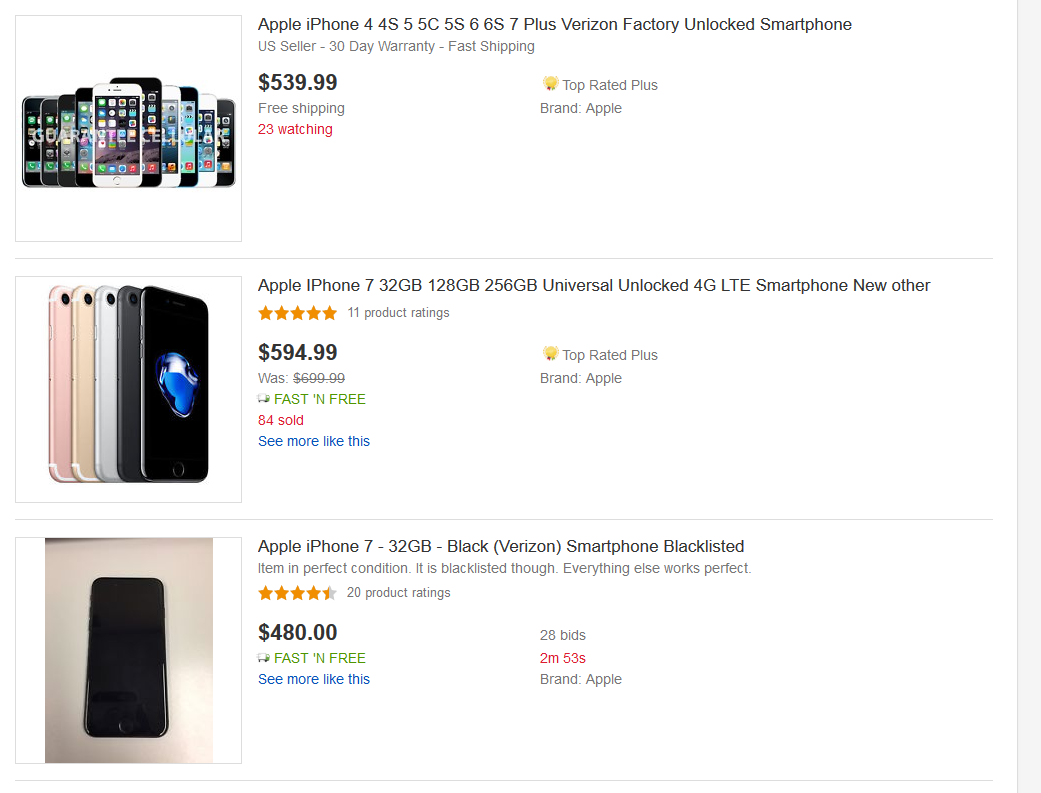 Do's and Don't's of a Good Title:
Do

Don't

Use up to 80 characters to describe your item
Include details such as the brand name, designer, size, color, condition etc.
Make your title clear, concise and professional
State exactly what your item is, even if your title repeats the category name
Use sentence or title case
Use correct spelling

Use all capital letters
Use special characters like punctuation marks or asterisks
Include multiple synonyms (like purse, handbag, and bag)
Use words that don't describe your item (wow or l@@k)
Use words that are false or misleading
Refine – This is the phase where the buyer spends the most time with you (or your listing), so this is your time to shine! Some of the things they consider are the credibility of your listing, they'll likely scroll through your photos, they'll look at the price and the description. Right now, the buyer is likely looking at several other listings as well so these things will have to stand out for yours to be selected.
Take good quality photos – photos will make or break your listing
Include free shipping when you can (Side note: you may want to bake this into your starting price)

One of the first ways to turn a buyer off is to have high shipping charges
Studies show shipping charges are a leading cause of shopping cart abandonment

Description – As a buyer, doesn't it make you feel more comfortable making a purchase if someone has taken the time to include details in the description?

Be honest – disclose any imperfections

Ratings play a big part in the refining stage
Think about what the buyer is looking at during the "Refine" phase. Now think about how you're going to make your listing stand out so you can move on to the final phase. The refine phase can be broken down into two parts. The initial "above the fold" information and the description and shipping information.
Part 1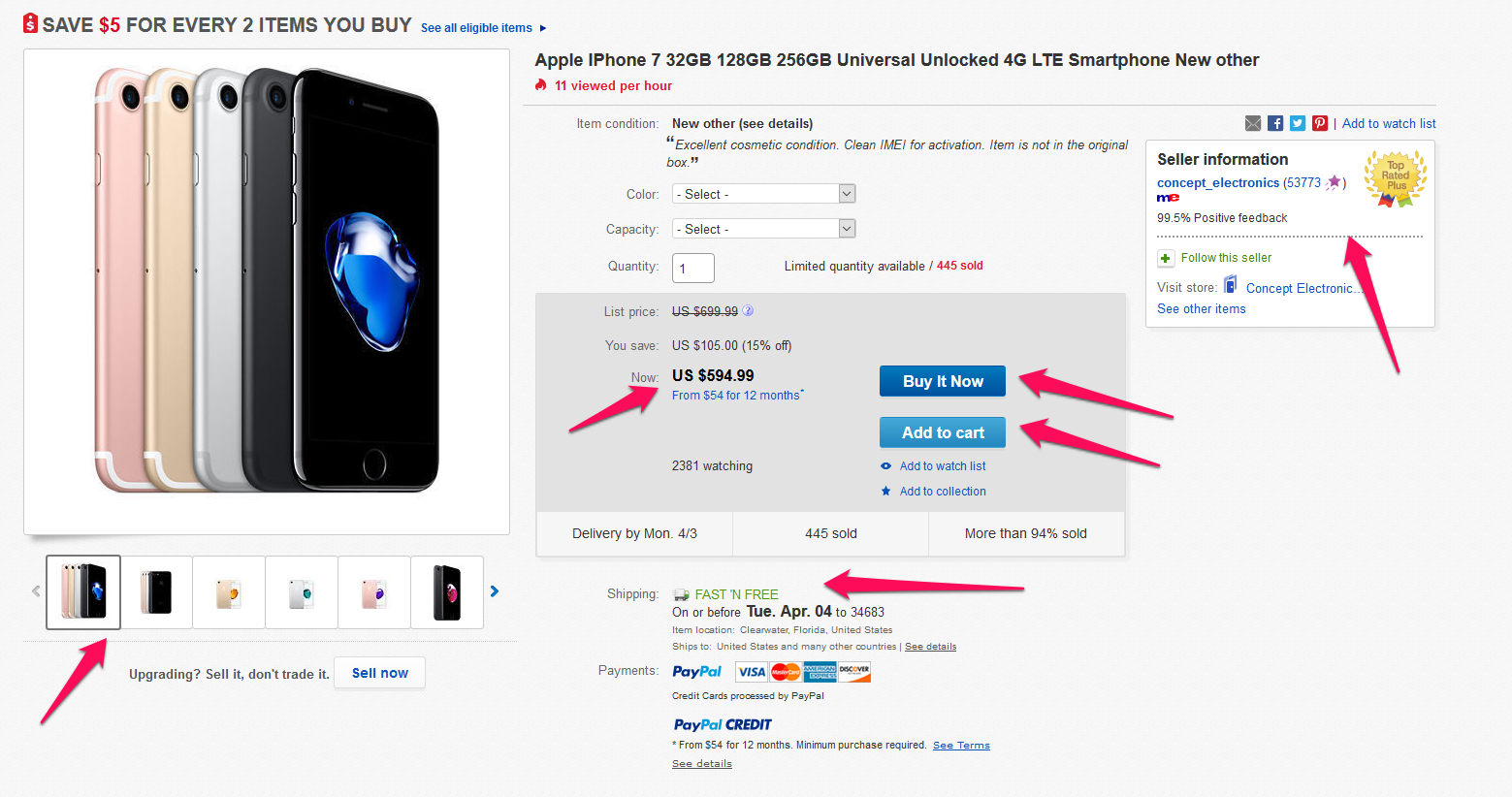 Part 2.1 – Description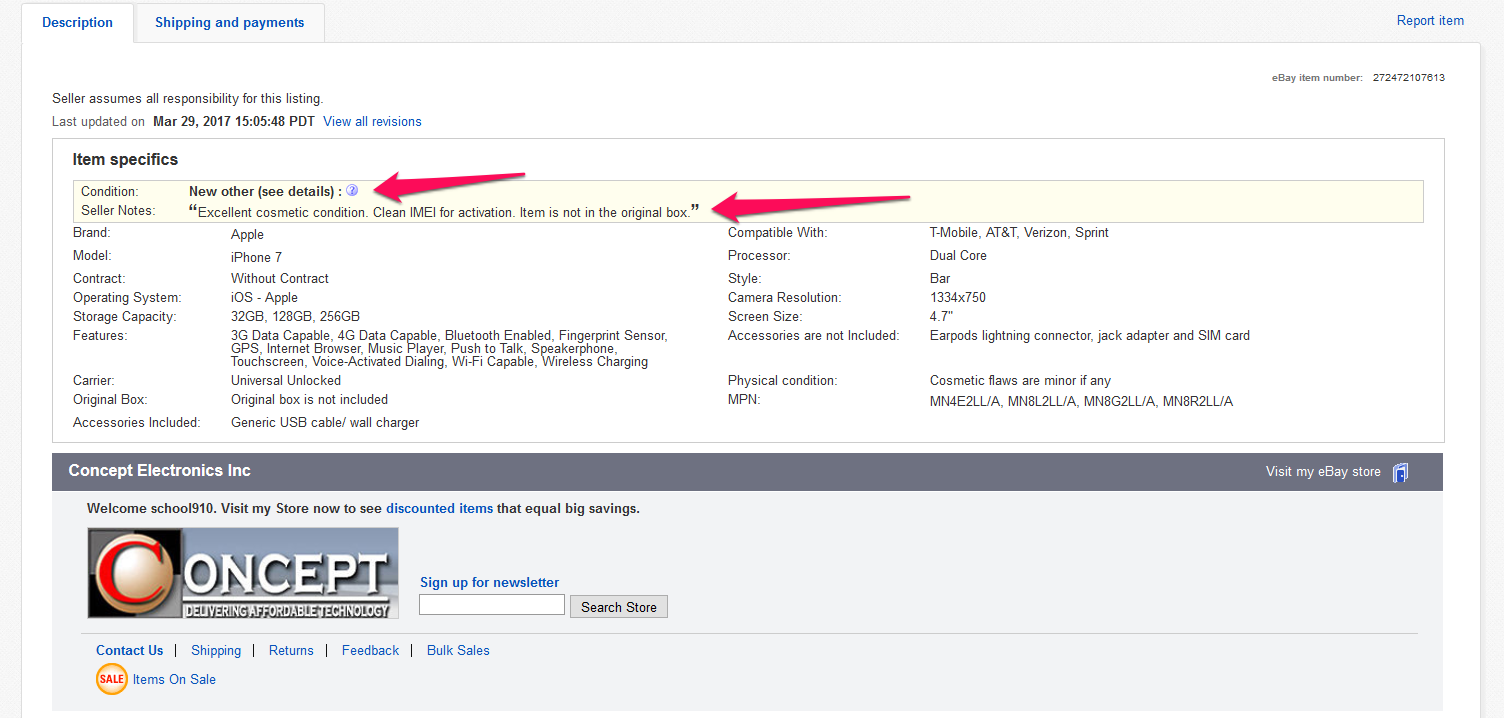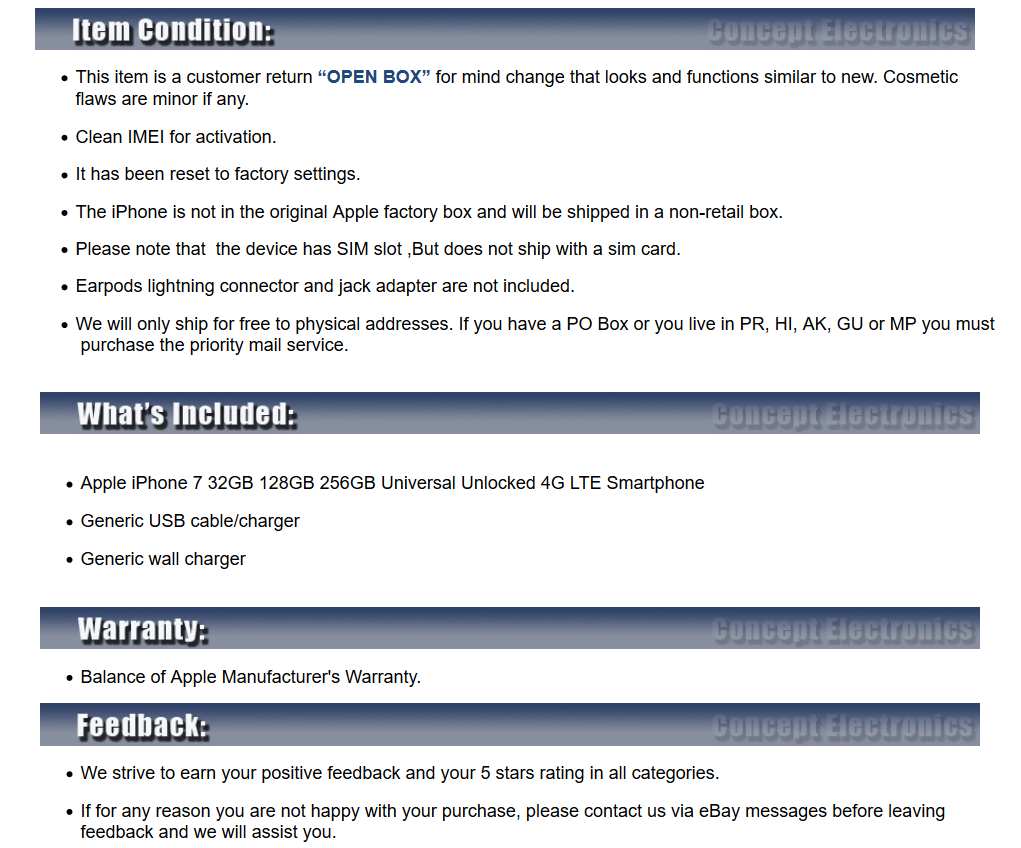 Part 2.2 – Shipping and Payments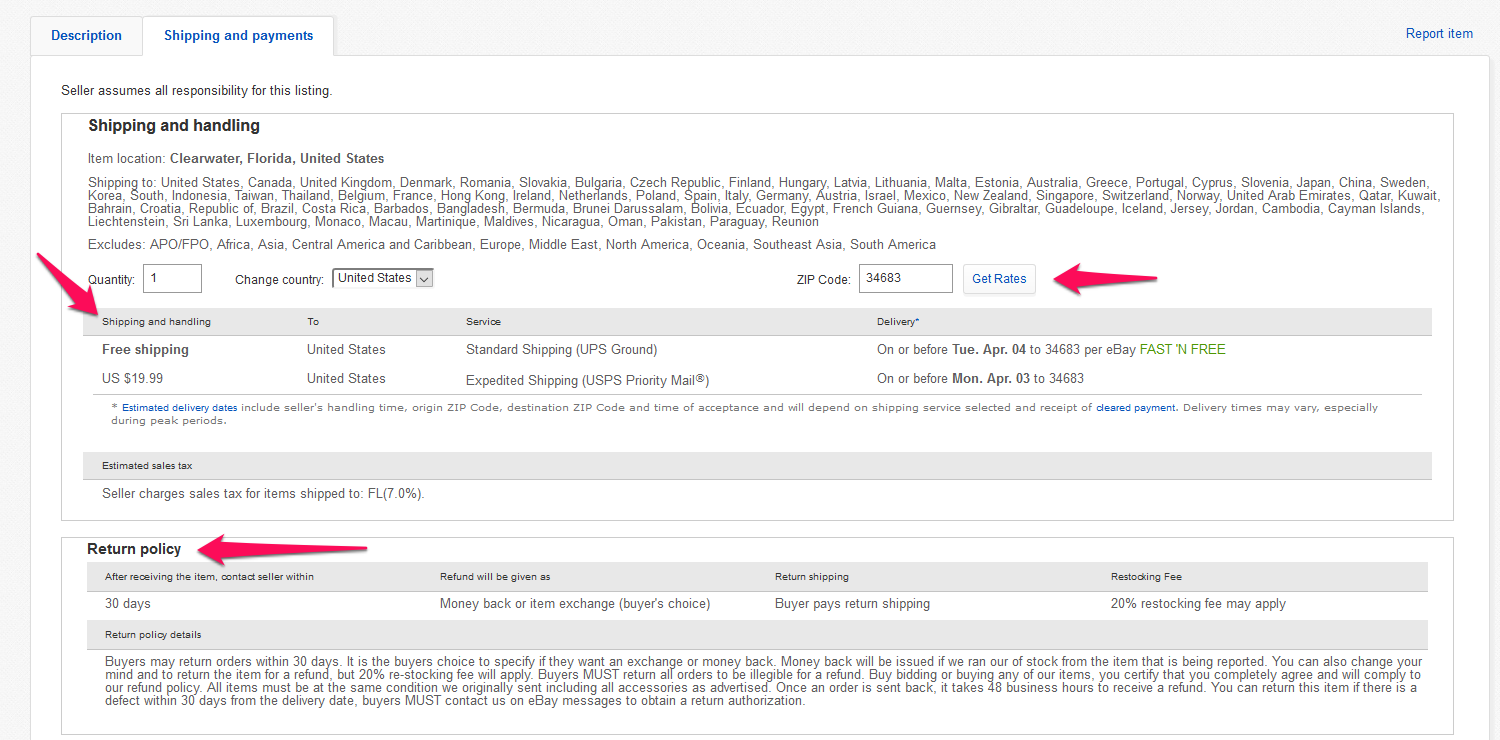 Do's and Don't's of a Good Description:
Do

Don't

Make your description clear, concise, and professional
Include details such as the brand name, designer, size, color, age, country of origin, features, condition etc., even if it repeats what you've already said in the title
Use sentence case or title case
Use correct spelling
Use a single, simple font in a single color
Organize your description in paragraphs or bullets with similar information grouped together:

First describe your item. Include the relevant details about your item, and be clear about what will be in the package the buyer receives
In a separate paragraph or bullet you may want to include a story about the item, or information about why the item is unique or appealing

Use all capital letters, multiple fonts, or multiple font colors
Use negative or anti-buyer language
Make false or misleading claims about your item
Buy – During the buy phase, the buyer is taking all of the things we just talked about into consideration, but the most important is price. Total price. Now, the buyer is asking themselves questions like, "If I buy from this seller, when will my item arrive? Will my item arrive? When it arrives, will it be as advertised?"
As the buyer, you're also likely looking at your buying options – especially if there are several of the item you're looking to buy available.
The buyer may be looking at "Buy it now" verses an auction prices. Auctions are great because the buyer may be able to secure a lower price but there is some effort involved. You have to watch your item and have a bid strategy. You also have to make sure you're going to be available when the auction ends so you can outbid any last minute bidders. If a buyer wants the item right away or doesn't want to put in the effort, they may be willing to spend a few more dollars and "Buy it now".
eBay helps sellers achieve a sense of urgency by highlighting when an item has a lot of people viewing or "watching" it.
Pricing – When you create a listing, eBay will give you an idea how to price your item for many types of listings.
Availability – How soon can I have it? Do I have to wait 8 days until the auction ends? How much effort am I willing to put forth?
Buyer skepticism – Is the buyer afraid you might be selling a knockoff?
How did I gather this information? Easy, I bought something on eBay and documented my experience and my decision-making process along the way.
{{cta('a0457531-8efa-46c7-9a1c-c9c3e020e80d')}}